FRIDAY, JUNE 8, 2018
Trump's 504th Day In Office
This Morning at the Conservative Agenda on Day Number 504 of Trumpster's First Term, Political Insiders were asking Beloved Whistleblower Publisher Charles Foster Kane About The Reaction If The IG Report really slams Disgraced Fired Ex-FBI Director James Comey next week.
"I think we could recycle a lot of our old Comey material," Kane admitted. "Check out what The Blower was reporting a year ago this Friday night."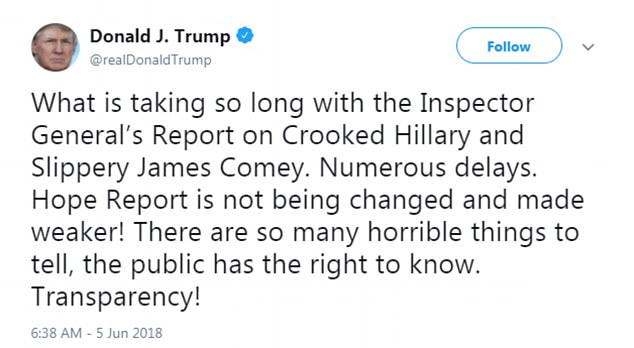 Anti-Trump Celebration At D.C. Bar Comes To Screeching Halt,
These Pictures Of the Glum Scene Are Priceless
Maybe They Were Watching Tonight's Top Ten Videos
Comey's Testimony Proved That He Is A Dirty Cop: Christopher Farrell
Coulter: 'Outrageous' That Comey Didn't Publicly Clear Trump
Top Ten Facts From Comey's Suicide Testimony. Loretta Lynch ARREST imminent. NO Trump Impeachment!!
James Comey: Loretta Lynch Ordered Cover-Up of Hillary Clinton Criminal Investigation
Jay Sekulow: James Comey's Leak Is A Crime
More Comey Meetings With Loretta Lynch About To Be Revealed
Eboni's Docket: Was James Comey's Leak A Crime?
Judge Jeanine: 'Predator' Comey Wanted To Take Trump Down
@Liz_Wheeler: Trump Vindicated
Bre Payton Of The Federalist Breaks Down The Coverage
More Well-Deserved Ridicule For J. Edgar Comey
Now Here's Tonight's Fake News Fun From The Onion
Obama Sends Publisher Collection Of Pages For Presidential Graphic Novel
WASHINGTON—Saying the finished work would become the "definitive take" on his time in the White House, Barack Obama reportedly submitted a collection of pages from his presidential graphic novel, Barack Obama: Renegade, to publisher Image Comics on Thursday. (MORE)
Tonight's Ben Garrison Moment
"Fixin' the Leaks"
What a pathetic performance by Comey. How in the hell did such a man become an FBI director? Oh, now I remember. He was a clerk for the Deep State all along. His job was to protect the swamp. He was ordered to let Hillary off the hook.
Comey began by helping the Clintons escape Whitewater charges when he was a deputy counsel for a special Senate committee that was investigating the crime. Er, 'the matter,' as Comey probably saw it. Comey then went to Lockheed Martin, where he amassed a $6 million fortune before he left in 2010. That's quite a reward.
..…….Read More at the Cartoon Blog
The Whistleblower Newswire Is Your Official Publication of Record For The Conservative Agenda
The Blower believes we're still living during the most important period in American History for our non-stop campaign against Political Correctness, the Devolution of American Culture, and the Liberal News Media. Congress and the Liberal Media Establishment will continue to lie and say really stupid things without a smidgen of journalistic integrity in their effort to advance the Liberal Agenda.
Beloved Whistleblower Publisher Charles Foster Kane Says The Conservative Agenda Is Now Completing Working On Donald Trump's Fifth 100 Days To Make America Great Again. Today Is Day Number 504. There Are Now Only 878 More Days Until Trump's Re-election Day on November 3, 2013.